February 25th, 2018 by Dominator
Chris Harder is having a rough day — separated from his hiking pack and low on water, he wanders through the woods hoping to find someone, anyone who could help him. But things are only going to get harder for Chris. He takes a fall and passes out in the middle of the woods and is found, unconscious, by wilderness survivalist Christian Wilde who has been hiding out in the woods to escape government surveillance. Christian doesn't know what pretty boy Chris is doing in this neck of the woods, but he sure is going to find out. Chris awakens tied to a tree, facing interrogation by an unknown and angry man. Frantic to get free, Chris reiterates he's just a lost hiker who doesn't know anything, but Christian isn't convinced. He slaps and flogs Chris all over his stomach and chest. He takes Chris' cock out and begins to stroke, suck, and bite it. He pulls hard on Chris' balls, stretching them as far as they'll go. To his surprise, Chris' cock gets rock hard after being beaten and manhandled. Maybe somewhere between pleasure and pain, Chris will start talking. Christian waterboards Chris and alternates between making him choke on water and making him choke on his beautiful big cock. Chris pants for air in between and all the while his cock stays hard. Since Chris isn't talking, Christian decides it's time to gag this little piggy. Now all Chris can do is moan around his gag as Christian fucks his tight asshole. Christian pounds that hungry hole as Chris squirms and struggles in bondage. Finally, Christian pumps Chris' cock and lets Chris cum all over himself, before gathering his slop and feeding it to Chris. Christian's thrusts intensify as he gets ready to cum, and he blows his load all over Chris' cock and ass. Chris eats Christian's cum greedily and is relieved that this trial is over. But Christian isn't going to let Chris go just yet. It looks like Chris will be stuck in wild country for some time.
February 6th, 2016 by Dominator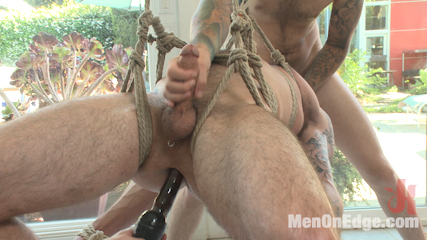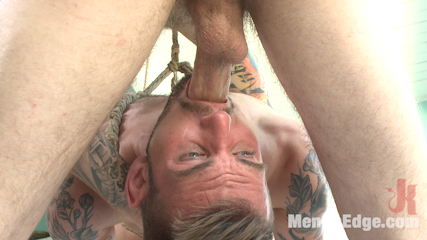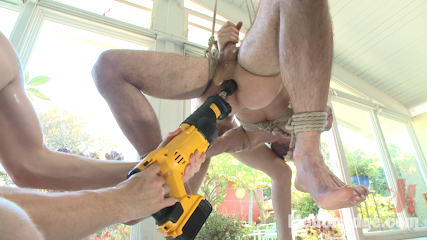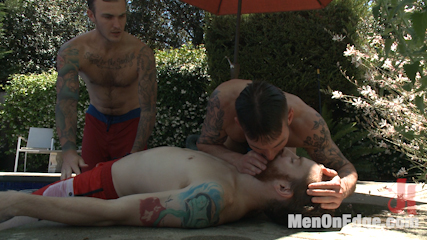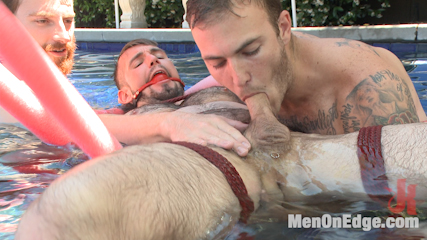 Christian and Sebastian are out pool hopping when they stumble over a gorgeous tiled pool tended by Chris Harder, a studly pool boy with a hot ass. Sebastian pretends to drown in order to lure Chris into their clutches. From there, Christian and Sebastian fasten the pool boy to foam noodles and tease an erection out of his tight swim trunks. They torment the pool boy's nipples and make him suck cock underwater while bringing him to the edge over and over. Chris is pulled into the bungalow and suspended in the kitchen while the two spin him around and toy with his raging boner. Christian busts cum all over Chris' moaning face as Sebastian rams a vibrating dildo into Chris' ass. The summer fun's not over yet, so Sebastian pulls out a fucksaw and plows the pool boy's prostate. Begging to cum, Chris finally relieves himself while shooting a huge load all over the floor. Helpless and cum drunk, Chris is finished off with post-orgasmic torment and intense tickling to top it all off.